James Carter Quintet featuring Corey Wilkes (New Morning - 24/07/2010)
James Carter is an extremely prodigious saxophonist with extended technique (circular breathing, slaptonguing). 2 hours live at New Morning where everybody in the audience could have noticed all the "musical" rooms. He is not only an astounding technician able to play all the single reed and double reed instruments, but also a generous artist ready to play "Happy Birthday" for a ten year old girl in the audience.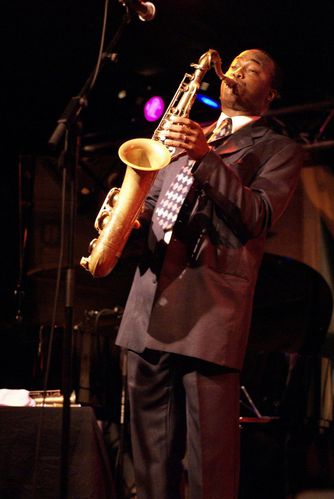 I personally love two of his album: "Chasin' The Gypsy" and " Present Tense". In the latter album, he plays a trinity of instruments (soprano, tenor and baritone), flute and bass clarinet.
At New Morning, his quintet swings with groove, exuberance and ease. James Carter on sax & flute, Corey Wilkes on trumpet, Ralph Armstrong on bass, Leonard King on drums and Gerard Gibbs on piano.
I do remember two compositions they played last Saturday: Nuages (in respect to Django Reinhardt who would have been 100 years old this year) and "Song of Delilah" after a wild introduction where everybody could notice his control on the instrument.
I would also mention Corey Wilkes on trumpet. His collaboration within James Carter Quintet sounds just perflectly. Both are constant risk-taker and eternal searcher, and plays with enthusiasm and passion. He is also, in my opinion, one of the most exciting musician on trumpet. Do not miss his two last albums: "Drop it" and "Cries from the ghetto".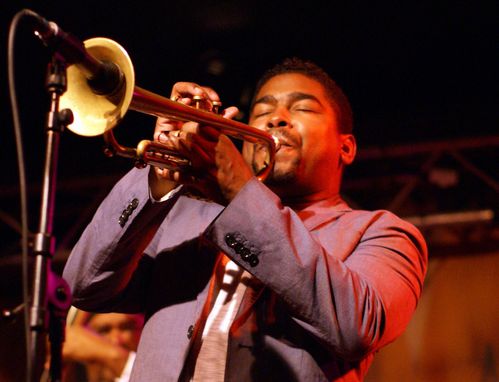 The audience gives them a standing ovation !
To see all the pictures, click HERE !