Yaron Herman Trio @ Sunside (01/08/2010)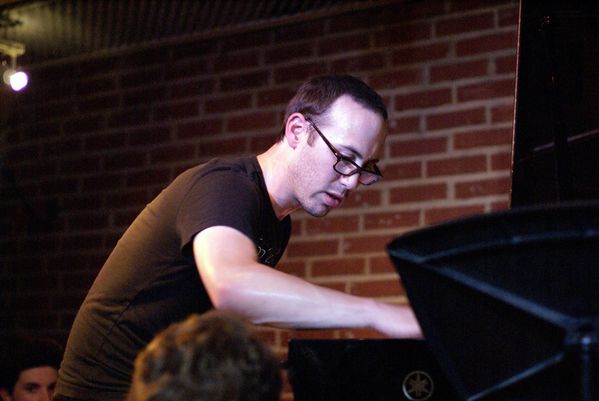 Yaron Herman Trio
Yaron Herman (piano) - Tommy Crane (drums) - Chris Tordini (bass)
Yaron Herman and Sunside Jazz Club, it is a long term relationship !
Keep reminder of his first venue in Paris. At 16, he left Boston where he planned to enroll at the Berklee College School of Music. He did not want to stay, and decided to return to Izrael. On his way back, he stopped over in Paris and met that evening some musicians during a jam session ... He never left Paris.
A period of musical exchanges in a city (mine) where he started to make a name for himself. He quickly became the pianist everyone was talking about, and was awarded the Sunside "New Talents" Trophy by unanimous vote.
At 21, he recorded his first album "Takes 2 to know 1" on the Sketch Label. In 2005, he recorded his first piano solo album "Variations" on LaBorie Jazz Label. In 2007, his first album as a trio "A time for Everything" along with Matt Brewer on bass and Gerald Cleaver on drums. In September 2008, he won the award for the best new instrumentalist of the year at the "Victoires du Jazz". His last album ? "Muse" released in March 2009.
Well, that 's all for the short - but so relevant - biography.
If his very original version of "Toxic" by Britney Spears as well as his cover of Police's "Message in a Bottle" brought his music to a wide audience, what I love about Yaron's music is that he plays with enthusiasm and charisma.Using a very-well known theme (such as Leonard Cohen 's composition "Halleluyah" or Nirvana's "Heart Shaped Box") serves as an excuse for playful, original improvisation and creative innovation. His lyricism leaves the audience deeply moved. He played many of his own compositions (such as "Airlines" or "Saturn returns"), and also revisited "No surprises" from Radiohead.
One word to resume his concert at Sunside: audience astonished !
Yaron Herman has an impressive schedule of concerts across the world. If you get a chance to attend one of his concerts, do not hesitate !
While waiting for this opportunity, click HERE to see all the pictures ! I also chose his version of "Heart Shaped Box" with one of my favorite trumpet player, Ambrose Akinmusire.