Roy Hargrove Quintet (New Morning - 28/07/2010)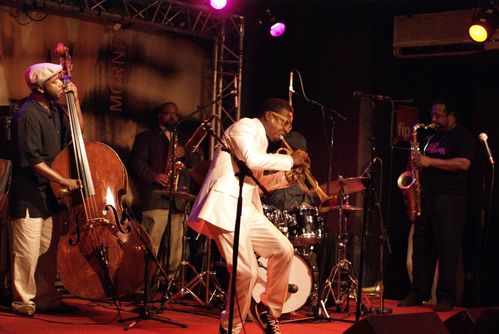 Roy HARGROVE trumpet
Justin ROBINSON saxophone
Jonathan BATISTE piano
Ameen SALEEM contrebasse
Montez COLEMAN batterie
You would not be surprised to see Roy Hargrove Quintet at New Morning, as well as my review and pictures. In five years, I've seen his performances seven times, twice with his RH Factor and five times with his jazz Quintet.
Needless to explain why ... but if I decided to begin trumpet four-five years ago, Roy Hargrove's music (as well as Miles Davis' music) has something to do with that decision. I have been introduced to Roy Hargrove's music with "Quintet with the tenors of our times" (released in 1994), "Directions in Music Live at Massey Hall" (2002; with Herbie Hancock, Michael Brecker, Brian Blade and John Patittuci), and one of my favorites "Habana" (1997). In this last album, Roy Hargrove's respect for the Afro-Cuban big band work of Dizzy Gillespie is visible. In his big band : Frank Lacy on trombone, the Cuban pianist Chucho Valdes as well as Russel Malone on guitar. Priceless ! This album includes Kenny Dorham's "Una Mas" and "Afrodisia" 's compositions, which feature Hargrove's warm trumpet. Malone delivers on this last title a magical blues-oriented guitar solo. I have to admit " O My Seh Yeh" and "Mambo for Roy" are one of my favorite compositions. The latter is an up-tempo big band fire !
Years after, I fell in love with "the RH Factor Hard Groove" (2003) and "Nothing Serious" (2006) ... a passion and fire maintained with his last albums "Earfood" (2008) and "Emergence" (2009).
More than a list of album ... also a proof that Roy Hargrove is capable of following his instincts, whether it is straight-ahead jazz or groove & funk. Always innovative and trying to erase the lines between the mainstream and the underground.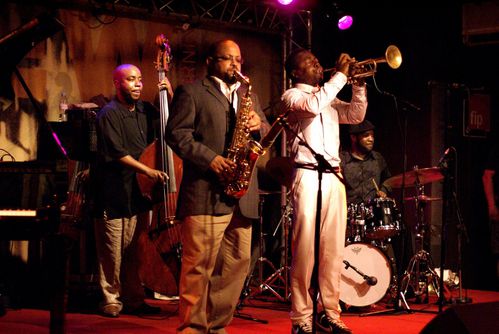 Wednesday 28th of July ... New Morning Jazz Club is overcrowded, as usual for Roy Hargrove 's concert. Roy Hargrove still has the best quintet : musicality and rhythmic expression of Montez Coleman on drums and Ameen Saleem on bass, beautilful complicity between Justin Robinson and Roy Hargrove, and indisputable technical ability of Jonathan Batiste still swinging with feeling.
Seeing Roy Hargrove live means: listening enjoyment ! Roy Hargrove projects brightness, whether it is a ballad or an up-tempo melody.
For instance, "Strasbourg St Denis" composed in honor of New Morning Jazz Club 's neighborhood. The initial melody is played in unison by Roy Hargrove and Justin Robinson. A melody accentuated by the notes exclamation played on piano (whether it is Gerald Clayton or Jonathan Batiste). The music keeps evolving into a call-and-response motive where it is difficult not to be pleased. The rhythm becomes danceable and the melody uplifting.
Last wednesday, Roy Hargrove chosed the bugle to play many ballads that remind its ability to reveal harmonic nuances and to bring out the beauty of a ballad using notes in the lower range of the instrument to make more effective his dynamics into the higher notes of the bridge.
Roy Hargrove ended up its first set with Sam Cooke's "Bring it on Home to me", as a final demonstration of its power over an audience and its ability to generate excitement. For the second set, he invited Eric Wyatt (about to play the day after at Sunside Jazz Club) on stage for the last tune and a final jam session.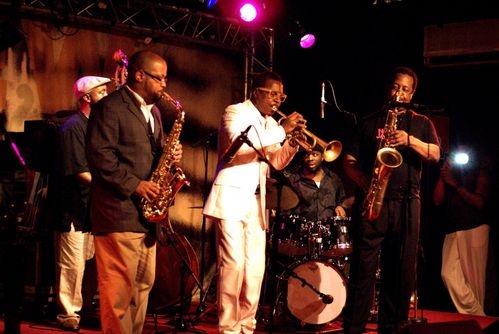 One more advice ... Go get your ticket for his next appearance ! If you hesitate, click on the picture below to see all the pictures of Roy Hargrove Quintet !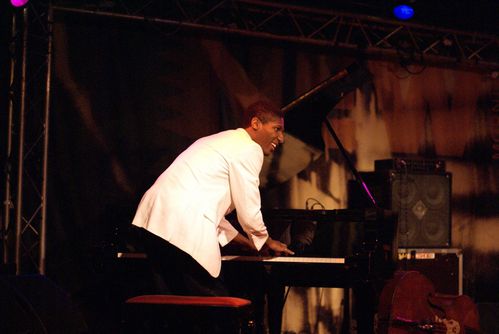 I noticed that Roy Hargrove played some compositions / tunes that I did not know yet. This one is a new composition . Can we hope for a new album in the upcoming months ?