Robert Glasper Experiment @ Trianon (06/04/12)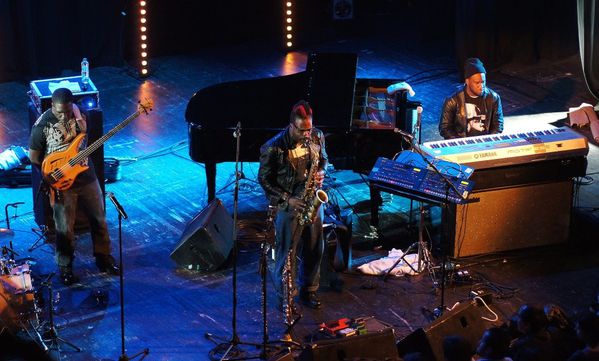 A two hours live performance for the release of his new album "Black Radio", but also his own birthday.
A night to remember, gathering people from the jazz and the hip hop scene, jazz pianists as Tony Tixier and Karlos Rotsen in the audience. All of them, to see the american pianist who has increasingly worked to meld the genres.
What is the most remarkable about his new album is how Robert Glasper is able to embrace and borrow many musical influences. Robert Glasper and his Experiment band interact with the vocalists rather than taking the spotlight for themselves. It gives a cohesive album, avoiding the patchwork people might feel when looking at all the "special guest" of the album (Badu, Lalah Hathaway, Bilal, Erykah Badu, Lupe Fiasco, Musiq Soulchild, Mos Def and Hindi Zahra).
Scratch the surface ... and his jazz identity emerges. Music is improvisation, no matter what so-called genre people need to put it into. Being an artist without any boundaries, whatever controversy he might face. The Experiment is about freedom. Spontaneity is the guiding factor. His touch, the rythm, the information given by the whole band, whatever the songs are (Nirvana's "Smells Like Teen Spirit" or John Coltrane's "A love supreme" with Casey Benjamin's vocoder vocal).
A spontaneous spirit of adventure and experimentation. Big Experiment !