Marcus Miller revisiting "Tutu" featuring Christian Scott & Alex Han (Salle Pleyel Paris - 21/12/09)
Marcus Miller
Tutu Revisited - The Music of Miles Davis featuring Christian Scott

Marcus Miller, bass and clarinet
Christian Scott, trumpet

Alex Han, sax
Federico Gonzalez Pena, keyboards
Ronald Bruner, drums

When Miles Davis re-appears in 1981, after six years of a forced and necessary retreat, Marcus Miller is here. Nearly 22 years old, but an enormous sense of groove which pushes Miles in the back.

These albums « The Man with the Horn » (recorded in studio) and « We want Miles » (recorded live in concert) testified of Miles Davis' revival. After the album « Star People » in 1982, the roads of Marcus Miller and Miles Davis are going to part, Marcus leaving for his own carreer and being replaced by Darryl Jones.
When Miles Davis changed from Columbia to Warner Bros, in 1986, Marcus called Tommy LiPuma to ask him if it was true that they had just signed Miles Davis. He said yes, adding that they were looking for innovative musical ideas.
Marcus, who was in Los Angeles, came back home to New York. The first composition that came out was «Tutu», as he felt extremely concerned by Apartheid in South Africa and by the attitude of bishop Desmond Tutu. Then, he wrote « Portia » knowing that Miles would love the spanish accents of it, and « Splatch ».
When Miles came into the studio, the first recording was the right one. And a few days later, Tommy LiPuma called back Marcus to tell him that Miles Davis wanted to work with him and that he was waiting for new pieces in order to end the whole album.
This album, probably the most famous of the last decade of Miles, carries almost as much the mark of Marcus Miller (composer and musician), as the one of Miles Davis.
For this concert at Salle Pleyel Paris, Marcus Miller wanted to create an updated lecture of « Tutu». He has chosen musicians who were kids in 1986 and asked them to learn the pieces but to forget the album itself. The stake was to play these pieces with the freshness of someone who discovers them in 2009.
I could tell you that Alex Han and Christian Scott replaced beautifully Kenny Garret and Miles Davis. And that is true. But everybody has his own sound, and that is why Alex and Christian fit perflectly into Marcus Miller's ideas of revisiting « Tutu ».
Marcus Miller is unique: with its tone (alternately round and metallic), with its well placed slaps of bass and with its melodies carried by an impeccable groove.
I did mention many times Christian Scott, and particularly his concert at Sunside in July 2009, where he delivered a smart, grooved and emotionnaly charged set of tunes.
The choice of Christian sounds so natural. Many say that he is the new voice in jazz trumpet, considering that what is doing does not sound like other young trumpet player or what other want him to sound like. There is something decidedly fresh about his approach to the music. I do agree.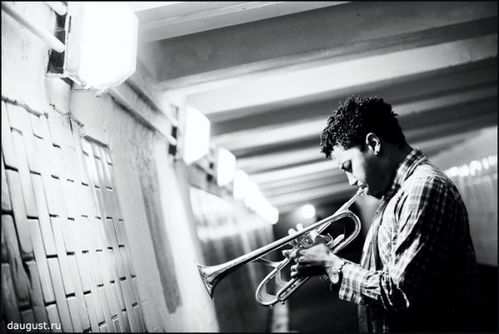 Pictures taken by Gulnara Khamatova (daugust.ru)

And guess the good news ? Recorded at the legendary Van Gelder Studios and engineered by Rudy Van Gelder, his new album is scheduled for 2010 and named « Yesterday you said tomorrow ». The recordings feature Christian's political point of view and what he perceives as dialog points for discussions by his listeners. Such as « Angola » and « the 13th Amendment », which is a statement about current US law allowing the legalized slavery of incarcerated persons. Though his intent is not to change people mind, he would like to encourage open discourse about human rights issues. For those who are more interested about matters of the heart, his next album includes also ballads.And he will be playing at New Morning Paris with his band on February 16th 2010 !

Last Monday at Salle Pleyel, despite Christian Scott had a little accident at the airport (a suitcase fell on his lips), his interpretation was brilliant. Another « Young Jazz Lions » of his generation is Alex Han, who offered an original and refreshing interpretation of what Kenny Garret was playing two decades earlier with Miles.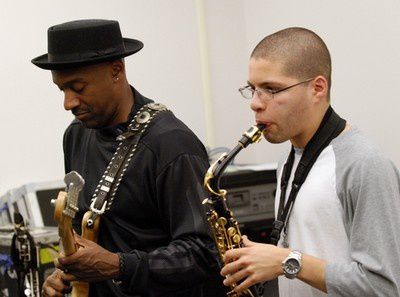 Santa Claus came earlier this year for me as I attended this live performance in Paris on December 21st. For those who missed this International Tour, here is some videos !
Part 2 - Tutu
Best wishes for 2010 !