Jazz à la Villette 2010: Saul Williams & Gil Scott Heron / Pete Rock, Stefon Harris & Robert Glasper's Experiment / Robert Aaron / Robert Glasper's Experiment & Bilal
Jazz à la Villette 2010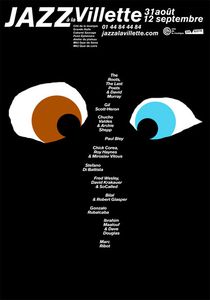 Saul Williams & Gil Scott Heron
For many, Gil Scott Heron is simply the godfather (the inventor ?) of rap music.Only that ?Not only. I see a blues man, able to feature a fusion of jazz, blues and soul music, including lyrical content concerning social and political issues of the time. His way of delivering, both raping and singing, is just unique. He has built everything by the word. Since the beginning of the 1970s, this master from Chicago with his baritone voice mixes his engaged words with his unique groove. From his "The Revolution will not be televised" and "From South Africa to South Carolina" to his album released in 2010 "I'm new here".
I suggest you watch this video "Me and the devil", that I consider not only as the statement of a great musician, but also one of the most beautiful black and white video I have ever seen about New York. Click HERE !

I forgot to mention Saul Williams, heir of Gil Scott Heron and Black music. But not only ... This contemporary poet raised to hip hop music is a chameleon. He writes poetry as the clearest and the most direct expression to express how he thinks. His writings simply chronicle his journey and vision as a musician. An explorer and an UFO of the contemporary slam. For those who do not know his music, click HERE to listen to "Black Stacey".
Pete Rock, Stefon Harris & Robert Glasper's Experiment
An evening to celebrate the king Roy Ayers, symbolic figure of a fusion between jazz and soul, a kind of untouchable godfather of acid jazz. For this tribute, talented, honest and inspiring artists:
- the one and only DJ Pete Rock, who played a major role in the merging of elements from jazz into hip hop and widely recognized as one of the greatest hip hop producers along with DJ Premier.
- a jazz' n' soul pianist Robert Glasper, that I really love for being able to connect jazz with contemporary urban sounds.
- Chris Dave, one of the most influential and exciting new drummers today, along with Jamire Williams in my opinion ... and both humble killer drummer.
- Derrick Hodge, generating an imperious groove on bass.
- the talented and creative Stefon Harris on vibraphone.
- and Casey Benjamin (vocal and saxophone) with his high-powered groove.
"Le Cabaret Sauvage" was wild and you can watch this two hours and half performances below, thanks to Arte Live web. Enjoy !
Robert Aaron
Playing from the sax to the piano, from the piano to the sax is hardly within the reach of all. For Robert Aaron, it is so natural.
Quasi-stranger from the public a few months ago, though in his fifties, he has played with a bunch of stars from James Chance to Wu Tang Clan, Wyclef Jean, as well as David Bowie. Going out finally from the shadow, he delivers a a sublime jazz full of soul.
Below you can watch Robert Aaron and his band including Anthony Joseph (vocal), José Palmer (guitar), Rafael Paseiro (bass), Roger Raspail and Yateras Changuis (drums).
Delight guaranteed for your soul and spirit !

Robert Glasper's Experiment & Bilal
Incredible levels of interactivity within Robert Glasper's trio. Robert Glasper, his music and improvisations are just beautiful, creative and innovative. Within his trio, Chris (don't call him) "Daddy" Dave is central to Robert Glasper's music, facing up Glasper accross the stage.
Chris Dave, the anarchic partner stretching the pulse to its limits, extracts maximum drama and excitement, using every Glasper's melody lines.
As special guest, Bilal who showed his range and ability to sing in a freeform style, while singing beautifully "All matter" and "Reminisce".
A mesmerising atmosphere at Cité de la Musique, and a live performance you can watch below.