Jason Parker 4tet @ Lucid Jazz Club Seattle (27/08/2010)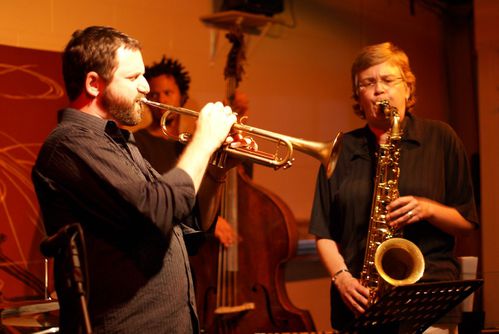 While in Seattle, I had the chance to meet and listen to Jason Parker playing at Lucid Jazz Club with his quartet: Josh Rawlings on piano, Evan Flory Barnes on bass and D. Vonne Lewis on drums.
A one night concert before he goes back into the studio to record a new album featuring the music of English singer-songwriter and musician Nick Drake.
It was an exciting evening with Jason Parker Quartet playing some tunes from their previous album « No more, No less », as well as arrangements of Nick Drake's fine collection of music.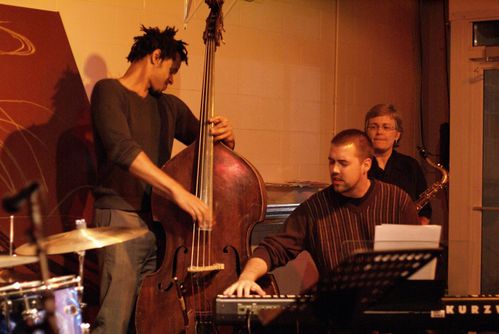 I particularly loved « Bashert » (composed for his wife Darrah Parker) and the version of «Love for Sale » that I think was something else entirely.
Jason Parker has always been a big fan of Nick's music for a number of years, and he made this arrangements perflecty suited for his quartet. With his trumpet and his warm tone, he has the ability to bring out the beauty of Nick's music.
The audience of Lucid Jazz Club wad moved and excited about the music. Among the arrangments, let me mention « Time has told me », « Day is done » and « River man ».
What I heard and saw was a feeling of communion and communication between these musicians. They enjoyed making the music and playing for our pleasure. And they were also joined by some very special guests: Cynthia Mullis on tenor and Michele Khazak on vocals.
Live concert is where you will always see the music come alive. If you get the chance, come check Jason Parker Quartet out live. Otherwise, you can always check his website and listen to his previous album.
One Working Musician
Jason Parker

oneworkingmusician.com
jason@oneworkingmusician.com
His new album " Five Leaves Left: A Jazz Tribute to Nick Drake" is scheduled for Spring 2011.