Billy COBHAM 4tet @New Morning (29.03.2012)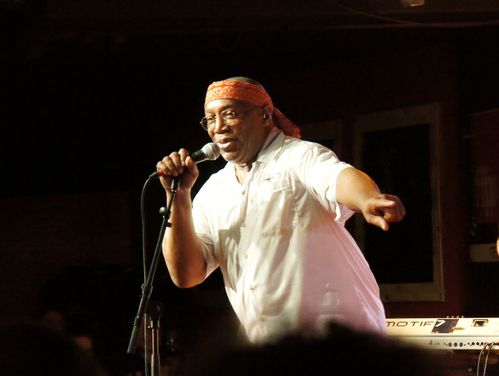 Billy COBHAM - drums
Michael MONDESIR - bass
Jean-Marie ECAY - guitar
Christophe CRAVERO - fender rhodes & violin
Co-former of a jazz-rock group called dreams in 1969-1970 with Randy and Michael Brecker, but also a member of Miles Davis band on some of his keys albums such as Bitches Brew, Live-Evil and Jack Johnson, he found with John McLaughlin one of the greatest jazz-rock fusion group of all: Mahavishnu Orchestra.
Two are considered to be innovative and enormously influential. "Sprectrum" (1973, Atlantic), a classic jazz-rock album which is notable for its light and shade. Jimmy Owens plays some excellent trumpet and the late Joe Farrel is his usual impeccable self. But the real star is the rythm-section. The second album is "Billy's Best Hits" (1985-87; GRP) - a compilation of tracks from Warning (1985), featuring Cobham with a guitar and keyboard quintet, and Picture This (1987) on which he leads a group of stars including Ron Carter, Randy Brecker, Grover Washington and Tom Scott.
Cobham remains a dominant drummer. His playing combines great power and rythmic clarity with a most musical sensitivity and subtlety.