Ari Hoenig Trio - Sunside Jazz Club (14/12/09)
I had the chance to listen to him many times in 2005 at Smalls (183 West 10th Avenue & 7th Street), with the french pianist Jean-Michel Pilc.

I was therefore delighted to go and see him playing with his new trio at Sunset Jazz Club on Monday 14th of December. With Gilad Hekselman on guitar and Euan Burton on bass.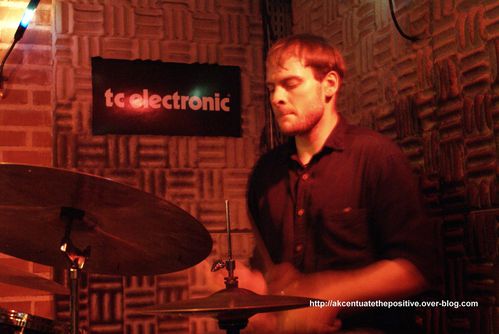 One of the hottest young jazz drummers. He changes the rythm at regular intervals, subdividing and making it follow the melody. On all his tracks !

Expansive technique, deep musicality and texture. He is a phenomenon on every kind of drums, making music with anything he touches. For instance, he used to play the heads of a familiar jazz standard by playing skins, shells and cymbals with nothing more than sticks, hands and elbows … An uncommon penchant to play melody with the drums. And he did it last Monday playing «

Moanin'

» in perfect interaction with his musicians, particularly the young and talented guitarist Gilad Hekselman. I also loved the title «

Farewell

» (composed by Ari Hoenig and included in his album «

Inversations

»), as it was a pure moment of musical poetry.




I do suggest all of you to listen and discover one of the most original and inventive drummer of the New York jazz scene. His last album is

Bert's

Playground.

Here are some videos of one of his first album "

The Painter

".




The Painter - Part 1


The Painter - Part 2