Jeremy Pelt and Wired - Live at Smoke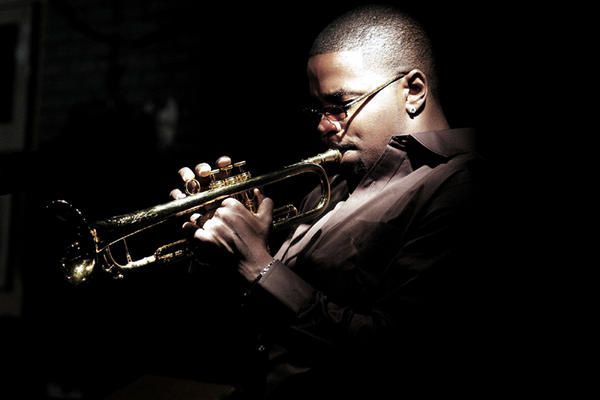 Photo: David Sinclair

Je vous ai parlé du bar de jazz new yorkais, le Smoke. Après avoir découvert l'histoire de ce club, vous souhaitez respirer l'ambiance musicale de ce lieu haut en couleurs et en musique ?
Dans ce cas là, l'album du trompettiste Jeremy Pelt,
Shock Value - Live at Smoke
, enregistré le 21 et 22 Mars 2007, est pour vous !
Un album où la proximité avec le public est réelle et où le son électro-rock de Jeremy Pelt rappele la période électro-jazz de Miles Davis au début des années 70s ...
De très beaux morceaux ... ma préférence va pour le deuxième titre de l'album :

Blues

- un morceau d'une douzaine de minutes où, en outre de présenter les musiciens, Jeremy Pelt utilise la pédale wah wah à merveille, accompagnés de Frank Locrasto au Fender Rhodes et Al Street à la guitare.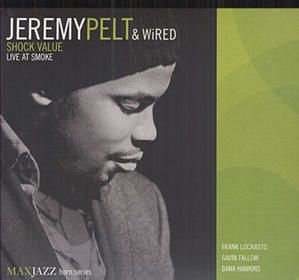 Jeremy Pelt: trumpet
Wired is:
Frank Locrasto: Fender Rhodes, Hammond B-3
Gavin Fallow: Bass
Dana Hawkins: Drums
Al Street: Guitare
Becca Stevens: Vocals
Plutôt de discourir sur l'album, je vous laisse lire les critiques de jazz parues dans le Jazztimes et le NY Times ...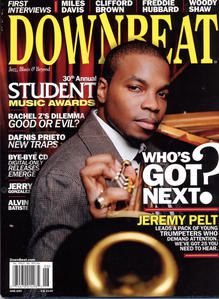 Review of "WiRED- Shock Value: Live at Smoke" (
From JazzTimes by Bill Milkowski)
For young trumpeters, the lure of electric Miles is as powerful as the pull of Clifford Brown's bebop. The list of trumpeters who have at one time or another plugged in and turned on to a Live-Evil vibe with wah-wah pedal fully engaged is long and illustrious. Add Jeremy Pelt to that list. On his aptly titled Shock Value, a live recording from Smoke on New York's Upper West Side, the trumpeter throws a curveball to those who may have heretofore considered him to be strictly in a purist vein (easy to do, given his history with such straightahead bandleaders as Vincent Herring, Ralph Peterson, Louis Hayes, Frank Foster, James Moody and Gerald Wilson).
Pelt dives deep into the electric pool here. The provocative opener,"Circular," is underscored by Frank LoCrastro's stabbing Fender Rhodes and highlighted by guitarist Al Street's spiky fuzoid six-string work. "Suspicion" is directly out of the Herbie Hancock Thrust playbook. Pelt's bold, open horn playing here is somewhere up in the Freddie Hubbard zone, while Dana Hawkins' whirlwind drumming jacks up the proceedings a notch.
"Cause" is an affecting pop ballad reminiscent of Blind Faith's "Can't Find My Way Home" and features the soaring soprano of vocalist Becca Stevens along with some highly expressive trumpet work from Pelt. They jump back into a Thrust vibe on "Pythagorus," Pelt's answer to Hancock's "Actual Proof," with bassist Galvin Fallow playing Paul Jackson to drummer Hawkins' Mike Clark. Pelt's muted trumpet solo here is bristling with ideas. He also displays uncommon lyricism on the beautiful ballad "Beyond" before breaking out the wah-wah once again on the raucous closer "Scorpio," based on the opening riff to Miles Davis' "It's About That Time" (from In a Silent Way). It's underscored with funky clavinet and bubbling Mu-tron-inflected bass lines, and throbbing with rock energy, which will no doubt shock purists.
Review of "WiRED- Shock Value: Live at Smoke"
(George W. Harris)
The bottom line with this latest release by emerging trumpet star Jeremy Pelt is: if you were attracted to him by his acoustic 03 release "Close To My Heart" that featured him him as the torch carrier in the Brown-Morgan-Shaw mold of traditional jazz, you're going to be disappointed. If you were intrigued by his electric work reminiscent of early 70s Miles, as on his 05 release "Identity", you're on safe ground. The fact is that Pelt has a gorgeous tone, and is trying to find the best environment in which to display his wares. On this "live" disc, he is surrounded by electronic rock-minded souls like keyboardist Frank LoCrasto, Gavin Fallow (bass), Dana Hawkins (drums) and Al Street (guitar), delivering an evening's worth of mostly self penned tunes that range from his own funky "Suspicion" to Derek Nievergelt's delicate ballad "Beyond". The emphasis is on energy here, as Pelt solos through his electronically tempered horn on the intense "Circular", with Street's manically depressive Hendrix-like guitar work. "PythagorUs" has Pelt's muted trumpet weaving through some very tricky roadwork. Becca Stevens' Fairport Conventionish voice is well featured on the moody "Cause". There are some intriguing ideas on this disc, Pelt is definitely on the search for his own musical milieu.
Review of "WiRED- Shock Value: Live at Smoke"
(Ben Ratliff - NY Times)
The sound of the album "Shock Value: Live at Smoke" (MaxJazz), by the jazz trumpeter Jeremy Pelt and his band Wired, comes from early electric Miles Davis, late '60s and early '70s, when his bands were more concerned with melodic development and before they were building a kind of dense, percussive graffiti. The setup here is tolling electric piano, shredding electric guitar, bass, drums and Mr. Pelt's trumpet run through a wah-wah pedal. One track even features the folkish singer Becca Stevens. For sure, a bit of it sounds like an exercise in style. But there's art here too. The constant volume and droning resonance of the band drive the players to focus and intensify their work, to make it matter; everyone's playing, especially Mr. Pelt's, is wise and serious.
Review of "WiRED- Shock Value: Live at Smoke"
(C. Michael Bailey)
Imagine a sacred Shinto sand garden beautifully divided up into all of the genres of jazz, rock, and blues. Interconnections between the genres and subgenres are carefully documented, after having been fully researched and verified. Now visualize trumpeter Jeremy Pelt dragging his horn through this garden, marginally alongside a similar set of tracks left by Miles Davis thirty-five years ago. This provides a visual image of Jeremy Pelt and his band WiRED at their March 21-22, 2007 appearance at New York City's Smoke.
Pelt is one of the few trumpeters exploring Miles' post-In A Silent Way (Columbia, 1969) period, as opposed to the majority of leaders who have been content to mine the master's second great quartet period. In fact, Pelt and his band sound very much like Miles' transitional combo heard on Live at the Fillmore East (March 7, 1970): It's About That Time (Legacy, 2001), that featured Chick Corea, Dave Holland and Jack DeJohnette, except Pelt is way better behaved and more enjoyable to listen to.
The disc is comprised of Pelt originals, with one exception, all very different, all very compelling listening. The highlights are a lengthy blues where Pelt has no fear of playing his horn through a compression-wah pedal. Pelt's solos, along with guitarist Al Street, make this blues less about jazz and more about blues. It is a nice throw-back touch in a more forward-looking program of music.
Pelt follows the blues with the hypnotic "Suspicion," where the band solos over a very simple harmonic figure repeated over and over, recalling Miles lengthy electric funk excursions. Pelt shares composing duties with vocalist Becca Stevens, who provides lyrics to Pelt's "Cause." The musical effect is narcotic and the sound, performance and approach fresh. The ballad "Beyond," by Derek Nievergelt, shows Pelt more than capable of the straight-ahead. In all, a superb disc by a young artist.
Review of "WiRED- Shock Value: Live at Smoke"
(Jim Santella)
Born to play the Blues and raised on Jazz' most recent personality changes, Jeremy Pelt brings fire and passion to his audience while tempering each stroke with the improvisational tools that have grown out of tradition. The trumpeter's wah-wah comments, his low moan caresses and his dizzying romps through bebop heaven gather up a hundred years of Jazz into one big picnic basket filled with seasonal delights. This appearance at Smoke features six of the leader's original compositions and on by bassist Derek Nievergelt. The band is WiRED, literally and figuratively; Pelt uses occasional electronic effects with his trumpet in order to broaden his instrument's range of emotions and the rest of the band takes advantage of the kind of 20th Century electronic technology that has been with us for several generations in order to get 'plugged-in' and dangerous. Like familiar voices from the family around us, these instrumental textures make everyone in the house feel right at home.
Pelt, who will turn 31 in November, was born and raised in Los Angeles, went to school in Boston and settled in New York. His BA in Music from Berklee college of music prepared him well and left him with a network of collaborations, which seems absolutely essential in this day and age of competitive business relationships. It's not his background that stands out when he takes the stage, however. It's simply what comes from deep inside him.
The trumpeter is at his best with a riveting ballad, such as 'Cause', or a sensual blues, such as 'Blues', where he leads his band in a storm of emotions. Several selections utilize organ combo textures with a hefty groove, while others recall the electric periods of Miles Davis. Pelt's trumpet creates a delightful session that shouldn't be missed.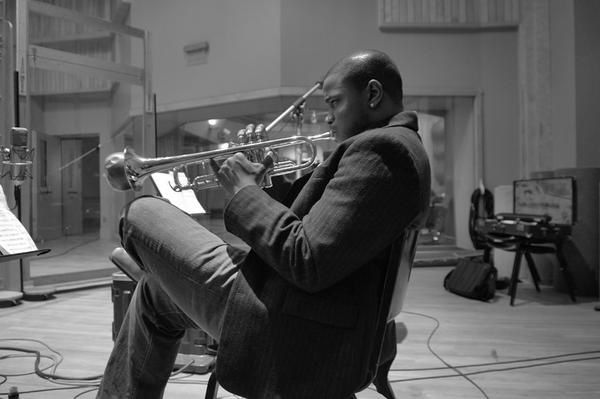 Et vous pouvez même écouter deux morceaux sur son site: le morceau "Blues" dont je vous parlais précedemment, et le morceau "Suspicion".

Stay tuned !